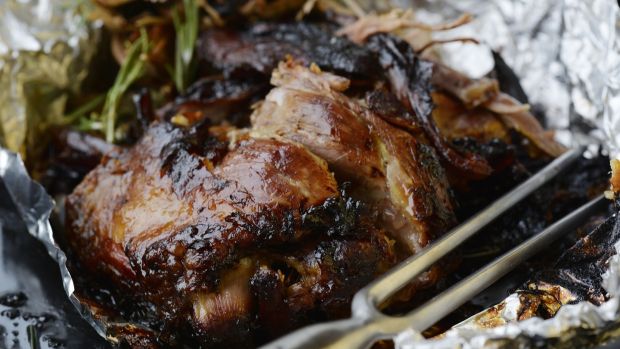 This is another lovely recipe from chef Domini Kemp. It's a great dish for Easter Sunday when you want to feed a family and have time to sit around beforehand. As long as it remains wrapped up, it will stay moist and sticky.
Ingredients (serves up to 8)
2 shoulders of lamb (or as required)
Drizzle olive oil
Salt
Black pepper
Half a bottle of white wine
Handful of any fresh herbs: oregano, sage, thyme, rosemary
1 good tsp fennel seeds
1 good tsp coriander seeds
2 heads garlic
Drizzle honey
Method
Preheat oven to 200 degrees or higher. Place the lamb shoulder, fatty skin side up, in a large roasting tin. Smear with olive oil and season generously with salt.
Roast on a high heat for about 25 minutes until some good caramelisation is taking place. Then turn down the oven to about 150 degrees and take the lamb out while you doctor it up.
Add the wine, the herbs and spices and peeled whole cloves of garlic. Wrap the roasting tin very securely with tin foil to seal it as much a possible, but still giving you the ability to occasionally baste.
Cook for another 2-3 hours, at least, occasionally basting or turning it over and checking to see that the roasting pan still has wine in it. If not, then you need to improve your tin foil roof or add a splash of water.
You can also give it 2-2½ hours of slow cooking and then give it a final blast at about 160 degrees without foil and a drizzle of honey. The lamb should be a lovely dark brown and literally melting away.
If it isn't, then keep it wrapped up again, add more liquid and keep slow cooking. It will happen eventually, which is why this is always good to get cooking from lunchtime.
It is fine to keep warm, well wrapped up for up to an hour after this. I also like to smear the very soft garlic cloves onto the skin, halfway through before the final blast. Once you master this, it will become a firm favourite.