A speedy dinner or a savoury breakfast, brunch or lunch from Peachy Palate! Flash fried marinated minute steak, thinly sliced and tenderised, served with a fresh lime avocado salsa, roasted red peppers and nacho chips of choice! A poached or crispy bottomed fried egg with a runny yolk would be a nice little extra addition. A dollop of Greek yogurt also doesn't go amiss.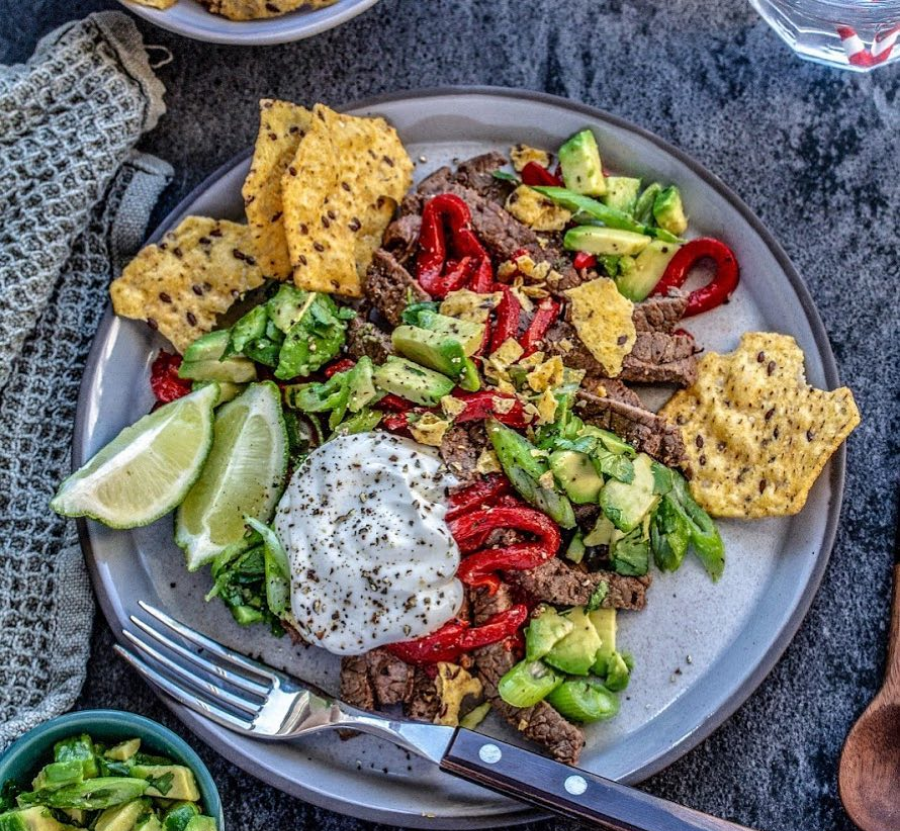 Preparation Time: 10 minutes
Cooking Time: 10 minutes
Servings: 1 (Increase ingredients for more people as required)
Ingredients
200 – 220g minute steak
¼ tsp chili powder
¼ tsp garlic powder
½ tsp paprika
¼ tsp cumin
¼ tsp Pink Himalayan Rock Salt
½ tbsp olive oil
½ a small jar roasted red peppers, drained and thinly sliced
1 – 2 tbsp plain Greek yogurt
Lime wedges to serve
Nachos to serve (recommended serving size 25 – 30g)

For the salsa
½ a large ripe avocado diced
½ a red chili finely chopped
2 spring onions sliced
Handful of fresh coriander roughly chopped
Juice of 1 lime
Directions
Mix together chili powder through to salt. Place steak in a bowl, sprinkle over spice mix and drizzle with olive oil. Make sure the steak is nicely coated and set to one side for 10 minutes.
Mix together all salsa ingredients and set to one side while you cook the steak.
Heat a non stick pan over a medium to high heat.
Cook the steak for 1 – 2 minutes per side.
Remove and allow to rest for a couple of minutes before mixing with the red peppers.
Serve steak and peppers on a plate, salsa over the top, nachos on the side with a few crumbles over the top if you fancy some consistent crunch. Add a dollop of Greek yogurt, a wedge of lime and some black pepper and you're good to go!