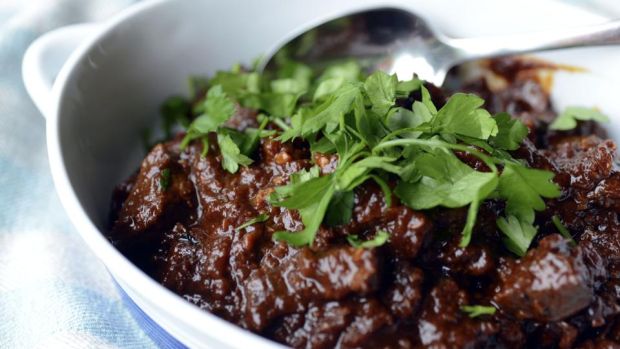 It's Mother's Day this Sunday and there's lots of sport on all weekend – including Ireland v Scotland in the Six Nations! This stew is the perfect solution. You can make it whenever you want and then it's ready to go when you need it (to feed Mum or to eat on the couch).
It will appeal to all ages, is easy to make and can be re-heated the next day. This recipe can feed a large family and still have leftovers.
INGREDIENTS
3 kg diced lamb (from Gahan Meats)
Olive oil
Salt & pepper
6 red onions, finely sliced
3 tsp Chinese five-spice powder
1 big pieces ginger, peeled and grated
1 head garlic, peeled and sliced
Good squeeze harissa (optional)
1.5 litres stock
4 tins tomatoes
4 bay leaves
400 g stoned prunes
50 ml soy sauce
50 ml maple syrup
METHOD
In a large frying pan, fry the lamb in batches in olive oil, season well and set aside.#
Meanwhile, in another heavy-based saucepan (or two), sweat the onions in some olive oil until soft. Add the five-spice powder, ginger, garlic and harissa to the onions and mix well. Cook out for another few minutes.
When the lamb is all done, add to the saucepan, mix well and de-glaze the frying pan with some stock and pour it into the saucepan.
Add the tinned tomatoes and bay leaves along with the rest of the stock. Mix well and bring up to the boil, then simmer for about and hour and a half. Stir occasionally and then add the prunes and soy sauce and maple syrup. Cook for another 20 minutes and then cool slightly and taste. Adjust the seasoning as necessary.
This recipe is based on one by chef Domini Kemp and used with her kind permission.